Blog
Nutrition is the Key to Long-lasting Health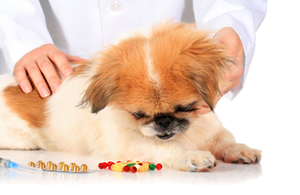 Keeping Your Dog Healthy With Longer Life Using Proper Nutrition
You love your dog like one of your kids. You go out of your way to make sure he or she is getting the best dog food, appropriate treats, and good nutrition. But is it enough? 
The truth is while the FDA protects dog food, it doesn't make sure your dog is getting great nutrition. Most dog foods are filled with lots of poor ingredients with low nutrition. Some experts say dog food is a lot like fast food for humans. It can be rich in fat while being low in vitamins and the wholesome nutrients dogs need.
 This can have an impact on your dog's health. He or she may be overweight, sluggish, not active enough, or exhibit ill temper. Just like humans, this is probably because your dog doesn't feel well. Consuming a dog food diet that doesn't have the right nutrients can leave a good canine in poor health without enough energy.
 Over time this diet can have very dangerous effects. Dogs can develop serious disease including cancer. Time and again we've seen dogs approaching middle age who already have major health problems. Sadly, many don't live full lives.
 The obvious solution is to give your dog a good supplement. Just like humans, dogs need additional nutrients, vitamins, and minerals to give them what they need. Fortunately, there are excellent supplements designed specifically for the nutritional needs of dogs of all breeds and ages. 
One of the very best is LifeStages Stage 2 Adult Formula. It is specially formulated to give dogs the extra healthy nutrients they need to have nice skin and coat, better heart health, healthy hips and joints, cut down on inflammation, protect against allergies and much more. It even helps digestion, strengthens bones, and helps avoid liver and kidney disease. 
The supplement includes wholesome natural ingredients like green-lipped mussel that is an excellent anti-inflammatory that improves cardio and many other factors. Ginseng is a powerful antioxidant that gives your dog more energy with less fatigue and lethargic behavior. Alfalfa leaf and barley green are rich in vitamins and active enzymes necessary for a healthy digestive system. 
And that's just the start. Stage 2 Adult Formula has an impressive list of top quality ingredients that provide all the things dogs are missing in dog food. This is certainly a supplement you need to try with your dog. You will notice the difference right away.